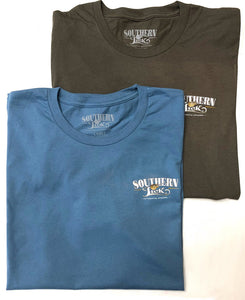 What Is Southern Lick?
Southern Lick Apparel was created by me, my family, and a select group of experienced printers. Our designs are inspired by the best "Feel Good" southern sentiments, southern lyrics (or Licks), art and music. You won't find confederate flags, hateful slogans or anything violent or disrespectful, just good vibes in our opinion. Here in the "South" tradition runs deep, relax, take a deep breath, have a glass of sweet tea and enjoy the world around you.  Let the Art & music around you speak to your soul and join the Southern Lick family. - Tina Robison
About us:
Southern Lick Apparel, is designed and printed in Snellville, Georgia by my experienced apparel team. We make them as you order them with the latest in decorating technology. Our T-Shirts are ringspun combed cotton 4.2 oz 100% cotton shirts and are wonderfully soft and comfy. New Designs are always in the works so check back for the latest updates!
For questions or wholesale pricing send us an e-mail to:
info@southernlick.com